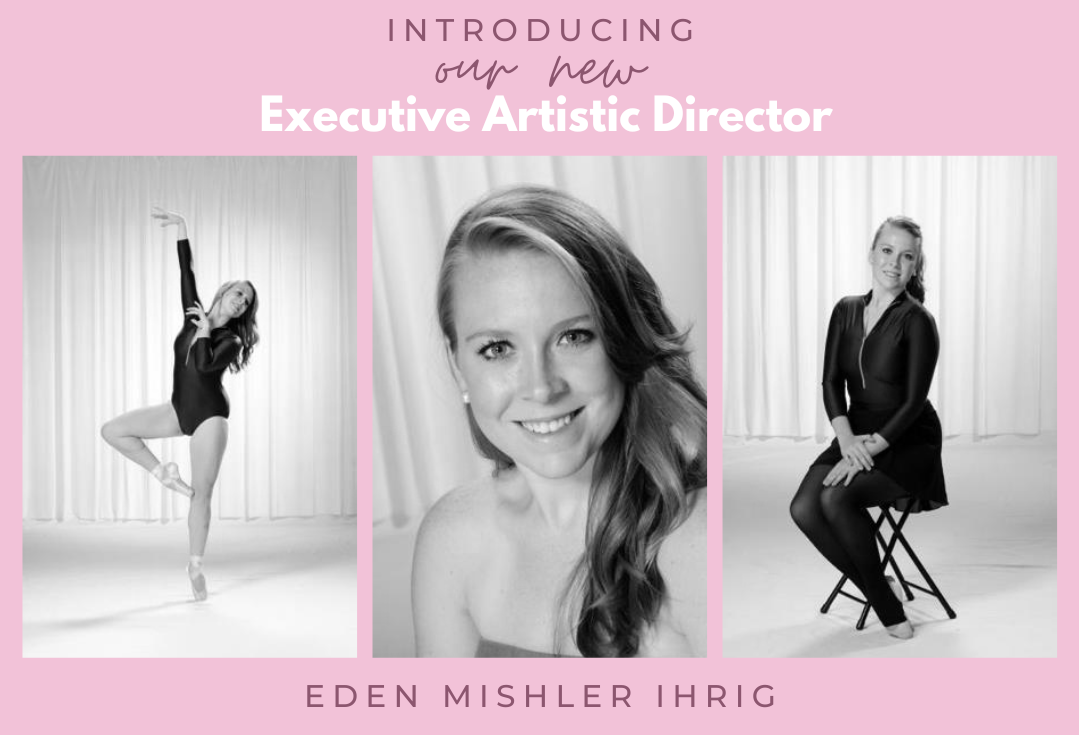 Eden Mishler Ihrig started her classical ballet training in Johnstown, Pennsylvania as a member of the Johnstown Concert Ballet for 11 years. With the Johnstown Concert Ballet she performed soloist roles in ballets such as The Nutcracker, Les Sylphides, Piquita, Cinderella, Graduation Ball, The Little Mermaid, and Tarantella. To further her training, she attended Intensive Summer Programs at Allegheny Ballet Company and Pittsburgh Ballet Theatre (PBT) for five consecutive summers. At PBT she performed excerpts from Swan Lake, La Bayadere, Tarantella, and Esmeralda. She was also influenced by modern, jazz, character, pilates, and contemporary at this time. Upon graduation from high school she attended Mercyhurst University's prestigious Dance Department where she earned her Bachelor's of Arts in Dance with a Choreography Concentration. While at Mercyhurst she performed roles in Giselle, Cinderella, Firebird, Les Patineurs, and many others. Her most recent role was "Snow Queen" in Lake Erie Ballet's The Nutcracker in 2017. Eden Mishler Ihrig has aspired to share her knowledge of dance with others since the young age of 13. She has taught at studios and conventions across Pennsylvania including Johnstown Concert Ballet, Lake Erie Ballet, Erie Dance Theater, Dance Masters of Pennsylvania Teacher's Training School and Conventions. She was also Department Chair and Dance Instructor at Villa Maria Academy and Cathedral Preparatory School in Erie, PA where she taught ballet, modern, jazz, tap, contemporary, hip hop, musical theater and dance conditioning. She choreographed and set many original works in her time at Prep-Villa and grew the program from the ground up. She was also the sole choreographer for the Cathedral Preparatory School and Villa Maria Academy Musical Theater Department under the direction of Father Mike DeMartinis where she choreographed over a dozen theatrical productions. She recently taught at Johnstown Concert Ballet and works as a Advanced Support and Systems Specialist for The Streamlined Studio helping dance studio owners all over the globe. She has big plans for the Johnstown Concert Ballet and is honored to be continuing Carla Pruncal's legacy.
Register for a great year at JCB. Enrollment is open click READ MORE to register now.
Ballet was difficult for me; I was not a natural, but it became my outlet, where I met new people, new ideas and new art forms. A lot of my personal growth and discipline are a credit to working with Carla Prucnal.
It's not like sports because there is no end game, it is all part of the process and the residual benefits are for a lifetime
Ballet relaxes me. I can empty my mind. I work hard, but nothing good comes without earning it. I will always remember how to carry myself, walk and sit.
I wanted my daughter in a form of dance that would help her respect herself as a girl. The young one says: I love being on the big stage with all the lights on me and everyone watching
Dance makes me happy, even when it's difficult. I feel like I am full of energy. It has improved my coordination, balance, endurance, memory and discipline. As a result, it has helped me academically as well as physically
A nonprofit, educational, organization which continues to raise the barre on dance instruction, expression, and performance. With classical ballet at our core, the JCB strives to contribute to the lifelong development of everyone in our communities, academically and culturally, by:
Encouraging the progress of dancers who have a serious interest in classical ballet.
Fostering educational programs for students of all ages, backgrounds and abilities.
Staging classical and innovative performances for communities throughout Johnstown and neighboring areas.